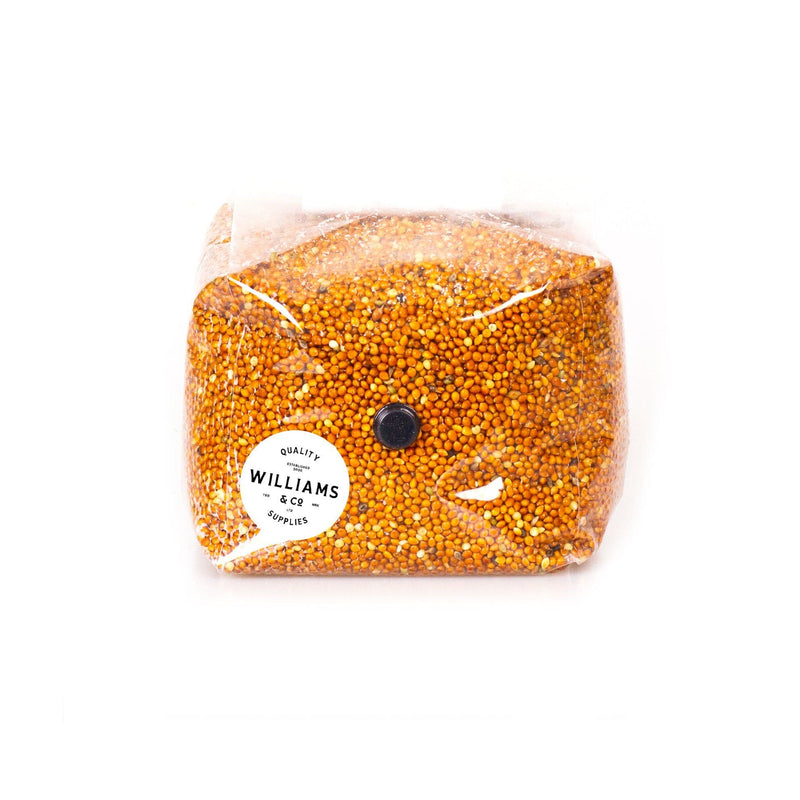 750g of sterilised millet for growing gourmet and medicinal mushrooms, simply inject with your favourite mushroom spores or liquid culture!
We prepare our grain by first rinsing the millet thoroughly to remove any dirt and debris, we then hydrate the grains by soaking them for 24 hours in gypsum fortified water. The gypsum helps stabilise the pH levels to near neutral, acting as a pH buffer, while adding essential minerals needed for fruiting. Once the grains have finished soaking we simmer them for 10 minutes ensuring perfect moisture content, they are then drained and bagged up ready for the autoclave. After the preparation phase, we load all the bags into our commercial autoclave and sterilise for 120 minutes at 15 PSI.
We take great pride in our attention to detail and sterile techniques ensuring you will receive nothing but the best possible product.
Once you have inoculated these grains allow your bag to colonise by keeping them somewhere out of direct sunlight at around 24°C. After around 2 weeks you should see signs of mycelium growing on the rye grain, and once it is fully colonised you will be ready to mix it with a bulk substrate or with more grains (G2G transfer)
Our sterilised grain bags can be stored for up to 3 months at room temperature, and even longer in the fridge.
These bags come in a heat-sealed mushroom grow bag with a self-healing injection port and filter patch for gas exchange.
Delivery Information
Your order will be sent with Royal Mail or Parcelforce, you will receive an email once it has been dispatched. Orders are dispatched within 2 days unless stated otherwise. Plain packaging.
30 Day Money Back Guarantee
We offer a money back or replacement guarantee on all of our products. To claim your replacement or refund please send us photos of the issue to: support@williamscosupplies.com and we will do our best to help you.
Choosing a selection results in a full page refresh.
Press the space key then arrow keys to make a selection.